I recently reanimated an older laptop, installing Linux Mint Mate 21.1 (the 64-bit version).
One of the first applications I installed was the latest SES version (V7.12a), which went smoothly as well.
Only the package manager fails to download any package lists, complaining about "Request aborted".
All the internet/proxy settings seem ok, I downloaded the packages on the same PC and installed them manually (using the respective menu option).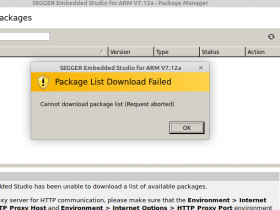 I am not sure if this is a problem in SES, or the Mint distribution.
Package access works fine with SES V7.10 and a Mint Cinnamon 20.2.
Perhaps some group membership missing ?
"dialout" it is not, it seems.
By the way, the manual package installation confused me in the beginning as well.
Selecting 3 or 4 packages at once, SES was unresponsive for 10...15 seconds with no feedback after clicking ok.
Though everything went fine.