Hi!
I need to create a mask for a data watchpoint (in particular for the upper bytes of a 32bit word) but I am not able to make it work.
I am working on a Renesas RZ/A1 (Cortex-A9) with e2studio as IDE and SEGGER J-Link V6.44i for debugger.
From the SEGGER J-Link control panel I am able to set a Data Breakpoint (and it works) but any attempt to use the mask functionality failed: the breakpoint is always hit regadless the value written.
This is my example setting if i try to use the data pattern 0x1000xxxx :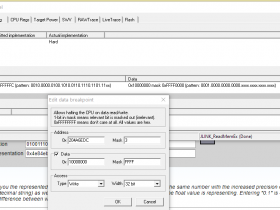 Some additional information:
I can't use newer J-Link version because, after the V6.44i, a web control panel has been introduced and I am not able to create Data Breakpoint anymore. No idea why.

I am not able to create Data breakpoint directly from the IDE (e2studio).

I tried to use, as a workaround, an address mask of 1 byte (targeting the upper bytes of a uint32_t variable for example) but the breakpoint is hit for the whole 32bit word.

For giving a bit more of context, I am debugging an issue where sometimes a variable is corrupted with abnormally high values. This variable is written (voluntarly) several times in a second while the bug happens in a variable time from minutes to 1 week(!!).
Could you please help me?

Thank you!