Hi,
when dark mode is enabled, Ozone basically adheres to this setting. The UI is dark. However, a lot of issues become apparent then.
e.g.
- timeline view changes background colour from dark to white when selected/deselected
- many texts are hard-coded in dark colours e.g. in Editor or Console you can see dark blue fonts.
- the "current line" indication in Editor is almost white, so white text is not visible
- the data window inside the timeline window is still white with grey font
- ...
I could go one here but the general issue should be clear. Ozone seems not to be meant to be run in dark mode. ...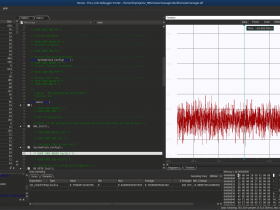 I run KDE as a desktop environment and have it set to dark mode. Ozone seems to follow that setting, which in general is nice. But given the current state of dark mode colours, it should either be disabled completely or fixed. ... Maybe by porting to Qt5, which is better for theming.

Cheers