Setup:
J-Link RTT Viewer V6.48a on Ubuntu 18.04 for my STM32F302CC using J-Link Mini EDU.
I have been making reliable connections using USB mode and reading messages printed by
SEGGER_RTT_printf
. However, when I am debugging using CLion/OpenOCD and try to use "Existing Session", it just loads forever without a successful connection.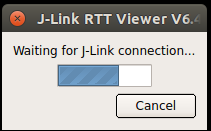 Edit: I tried it with the newest V6.72a and I observe the same behaviour.
The post was edited 2 times, last by thekenu ().