I'm feeding my target hardware from the J-Link Pro when debugging. The 5V output is regulated down to ca. 3V using an LM317T. The hardware connected to it is known to peek at ca. 10 mA. However... the J-Link Control Panel however says: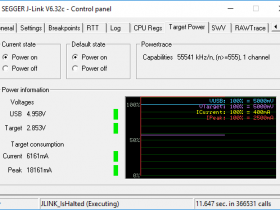 Yes, it really says "18161 mA". That's 18A and a continuous current of 6.2A. Whoa! I guess it is using smoke signals inside the processor core!
(hint: there's a couple of decimal points missing).
On a more serious note: how precise are these current measurements? My software checks Vbat at 2.866V which is pretty close to the 2.85V shown by the device driver's dialog so I guess the presented voltage is pretty good. Current however is slightly less accurate (checked against a Keithley DMM7510 - about 5 mA (including the LM317 regulator) versus the 6.2 mA shown by J-Trace).