Hello,
I previously made a thread about flashing a TMS570LS0432 with a JLink Mini EDU; it turns out that if you pay attention to the datasheet/specs (which I obviously wasn't doing

), you'd realize that the Mini can only target Cortex-M. I went ahead and grabbed a JLink EDU (which, according to the product page, does support Cortex-R4) and am now attempting to program.
However, the issue I'm running into now is basically the same problem I had before. Upon attempting to connect, I get an "IDCODE mismatch" error, and error code -1. The image attached shows the exact output of JLink Commander when attempting to connect to the microcontroller.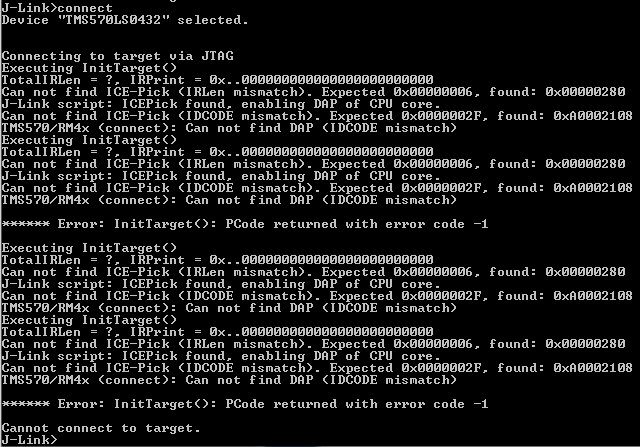 Other threads with nearly this exact same error said that the issue was a loose/bad connection, but everything on my board is attached quite firmly, so I don't think that's the problem. I'm beginning to trudge through the user manual, but preliminary searches/skimming don't seem to say much about this error. Does anybody happen to know what this means/how to fix it?