Hello to everyone,
I'm working with emWin simulator and trying to implement a simple speedo- (or any other-) meter, just an abstract scale on the background and a needle moving under that scale.
My idea is to use GUIBuilder for creating a window, placing a scale image and placing a needle image vertically upwards using IMAGE widget.
After that I create a memory device as a source device for vertical needle and draw the needle image into this device from array (dta) generated by GUIBuilder.
Next I create a second memory device as a destination for turned needle and set background colors as transparent in both devices.
Next I create a PROGBAR widget under the scale with the same size as a second destination memory device. This PROGBAR is needed just for setting a value and triggering its WM_PAINT message and rotating the needle within the borders of this PROGBAR according to its value using memory devices instead of showing a real PROGBAR.
My problems are:
- memory devices have no transparency (the dest device with the black background);
- artifacts (old needle position) when rotating the needle.
Can anyone help with my problem.
Thanks for your time.
LCD size in simulation is 1024x768.
NUM_BUFFERS is 3.
My simple code:
Main.c:
Some code in WindowMeterDLG.c (attached):
C Source Code: WindowMeterDLG.c
Display All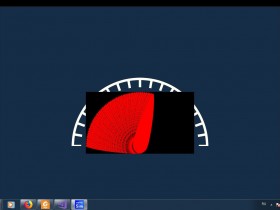 The post was edited 10 times, last by LexaGb ().