Hello, I'm Matthew. My foreign co-worker is having a problem when installing SEGGER ES 3.34a.
My co-worker's environment:
- 64-bit Windows 10 PC
- Username consists of only Korean characters, no alphabets. Let's call this username "CHOI"
FYI: As you see "
Backslash - Confusion in usage
", if you see a WON sign (Korean dollar sign, looks like W), that is identical to the backslash.
1. When exectuing "Setup_EmbeddedStudio_ARM_v334a_win_x64" on desktop directory (C:\Users\CHOI\Desktop\)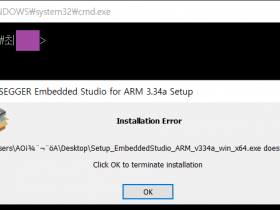 I executed this EXE file in the desktop directory. After few steps, it showed the above error.
The point is that, in the picture, the username characters are shown "broken".
2. When executing "Setup_EmbeddedStudio_ARM_v334a_win_x64" on a directory that has only alphabets (for example; C:\Users\)
I executed the EXE file in "C:\Users". Luckily, I can proceed to the installation step.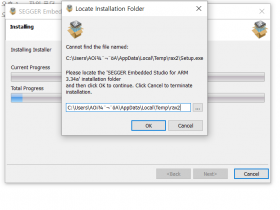 However, the "Appdata" directory's parent directory, which is the username, contains Korean characters. So these types of error continuously pop up.
>> To be sure, my co-worker can run an Ubuntu 16 OS using VMWare and install SES. Or create another user that consists of only alphabets.
However, these types of "expedient" or action are quite painful for my co-worker.
Can the SES team check this problem and fix it swiftly, please?
Or can this issue be fixed using other solutions such as installing the latest Java Runtime, etc?
-Best Regards, Matthew