Hi
I'm trying to write flash in AT91SAM7S256 target using J-link and Embedded Studio. When i has used default configuration I have result as bellow - it always fails for different reasons.
I tested device using testwspeed command in J-Link Commander and i can write succesfully data into SRAM space but not into flash.
But when I configured target using "w4" command (disable watchdog and change MCK to 10MHz from PLL), Flash has been also succesfully written.
I also tried to connect with target using J-Flash and it also works - It can reset, halt and write default registers.
My question: when in my projet (in Embedded Studio) i can add this actions (write some registers) to run it before writting into flash? Is .jlinkscript file correct place to do this?
Unfortunatly i can't found any documentation describing this script.
br/
Ryszard
Logs from Segger Embedded Studio:
Another fail:
Edit:
Now I'm confused. I see that if I every time execute power sequence (power off, power on, reset), then I can always succesfully run testwspeed on flash memory, but erase and loadfile never run without errors. (hex file I got from Embedded Studio). Due to problem with erase command I'm not now sure that is problem with configuration in Studio. Another question why addres 0x00200000 is used - it is a SRAM space, not flash in this target.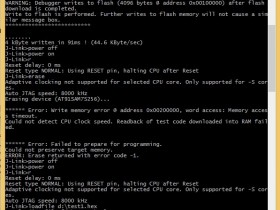 The post was edited 3 times, last by rgal ().