Hello,
I just start with SEEGER probe.
I 've configured a EClipse project which works on Internal RAM (set a beakpoint, step into functions, etc.. everything is fine).
So now I load my code in the external RAM.
- when I run my application without setting any breakpoints, everything works.
- when i set a breakpoint, application stops but "counter program" seems freeze after that.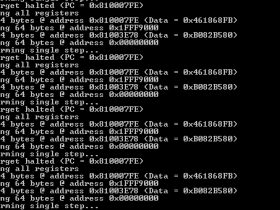 [img]C:\Users\pca\Pictures\pb_seeger_in_ram.PNG[/img]
here is my JILINK script for cortexM4 :
iMX6SoloX_Connect_CortexM4.JLinkScript.txt
Is there specials commands to make DEBUG in external RAM of M4 ?
Thanks a lot for your replies.
The post was edited 1 time, last by pca ().