Hello,
I have been trying for days to program my nrf51422 project without much success. I am using a Jlink programmer. I have connected VTREF, GND, SWCLK and SWDIO from the JLINK Edu to the project. However, when I go to program the board using nrfjprog or NRFGO, I get the error "ERROR: Low voltage detected at the target. Please make sure the device is properly supplied."
I have measured the voltage I am suppling from the project to the programmer and it reads 3.3 volts. Is this high enough? Is there anything additional I need to do?
I am following the pinout from the JLink datasheet.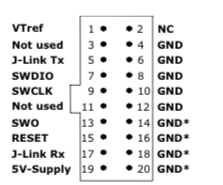 Any tips are very much appreciated. I'm running out of ideas here!
Cheers, Nick